Keranjang Belanja anda kosong!

Rp. 4.150.000,-
Rp. 3.500.000,-

Rp. 3.450.000,-
Rp. 2.950.000,-

Rp. 4.250.000,-
Visitor Counter
| | | |
| --- | --- | --- |
| | Today Visitors | 1 |
| | Total Visitors | 79326 |
| | Today Hits | 89 |
| | Total Hits | 294232 |
| | Online Visitors | 4 |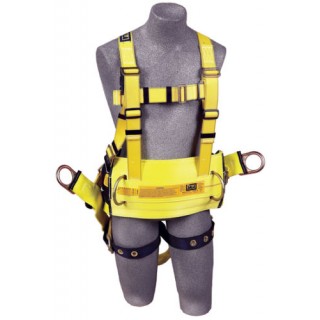 DBI SALA 1106108 Delta Derrick Harness
Kode Produk:
FP-DS1106108
Poin Reward:
0
18" back D-ring extension, belt with pad and back D-ring, seat sling with positioning D-rings, tongue buckle legs and pass-thru connection for 1000570 derrick belt (size Medium).
Delta harnesses combine a set of "industry-first" advancements, with popular features making them the workhorse of the industry. Today's Delta represents the culmination of more than twenty years of design, research, manufacturing know-how and on-the-job performance. Delta harnesses are as tough as the guys who wear them. They feature coated, corrosion-resistant hardware, water-repellant and abrasion-resistant webbing and a build quality that is second to none. A patented triangular design gives Delta harnesses a shape of their own, so you can don them quickly and easily. Throw it in the tool-box or in the back of your truck, think you can tangle it? Just pick it up and it's ready to put on, tangle-free. The Delta pad also incorporates a web spreading design, positioning webbing wider apart on shoulder straps to eliminate abrasion on your neck.
Meets or exceeds OSHA 1910.66, OSHA 1926.502, Capital Safety Gen. Mfg. Req., ANSI A10.32, ANSI Z359.1, ANSI Z359.3, ANSI Z359.4
Features and Specs:
Capacity 420 lbs. (190 kg)
No-tangle design
18" back D-ring extension
Body belt/hip pad with back D-ring
Seat sling with positioning D-rings
Tongue buckle leg straps
Parachute torso buckles
Integrated derrick belt connection (shown with 1000570 derrick belt - must order separately)
Protected labels, equipped with i-Safe