Keranjang Belanja anda kosong!

Rp. 4.150.000,-
Rp. 3.500.000,-

Rp. 3.450.000,-
Rp. 2.950.000,-

Rp. 4.250.000,-
Visitor Counter
| | | |
| --- | --- | --- |
| | Today Visitors | 66 |
| | Total Visitors | 86027 |
| | Today Hits | 266 |
| | Total Hits | 313428 |
| | Online Visitors | 6 |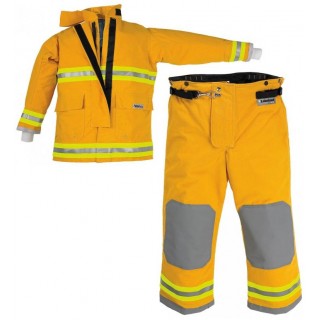 Fire Suit Lakeland OSX Attack Turnout Gear
Kode Produk:
PC-FSL
Poin Reward:
0
The Attack™ Series is Lakeland Fire's most traditional style of turnout gear. Attack™ features a longer 35" coat and waist high pants. New MTS® patterns have revolutionized the way Attack feels and wears. Superior mobility is key, with unrestricted movement while crouching, bending or reaching. You can customize your Attack™ gear to fit your needs and company requirements. See our Materials and Options pages for more details.
Attack MTS Coat Standard Features
35" coat length, three body-panel design.
Double stitched seams with 8 to 10 stitches per inch
All hardware reinforced with die-cut leather.
Liner attaches to jacket with snaps and Velcro®
Throat tab features scooped design for a better interface with helmet, shroud and SCBA mask.
Hanger loop on rear collar.
Extra layer of thermal liner in shoulders for increased thermal protection.
Ergonomically correct 2-panel curved sleeve follows arm range of movement.
Underarm gusset allows arms to be raised with minimal coat rise.
Deep two layer neoprene/cotton poly sleeve wells provide excellent interface with any style glove.
Grey leather cuffs are double stitched.
4" Nomex® knit wristers retain their memory and shape.
Zipper/Velcro® closure standard. New hightemp Delrin® plastic zipper has smoother operation and won't freeze or rust.
4" wide storm flap is constructed from two layers of outer shell with a central layer of breathable moisture barrier.
Black Nomex® front facings keep the front of the jacket light in weight.
Large 9" x 9" Patch Pockets. Velcro® closure on pockets.
"Easy Grip" DRD (Drag Rescue Device) can be employed with one hand.
NFPA Style Triple Trim is double stitched to garment for increased protection against wear.
Jacket liner inspection port.
Attack MTS Pants Standard Features
Four panel design high-back bib pants.
Low-rise waist fits like street clothes, increases mobility.
2" independent Nomex® waistband with snap fasteners to attach pant liner system.
Pant liner inspection port.
Streamlined fly flap with Velcro, hook and dee/snap fastener.
Two Nomex® twill take-up straps at each side of the waist to adjust the fit of the pants.
Diamond crotch gussets which absorbs the stress of the crotch system for increased durability.
Two 10" x 10" x 2" bellows thigh pockets with Velcro® flap closure and drain holes, lined with Kevlar® twill.
Arashield® reinforced knees for increased liquid resistance and maximum durability.
Double layer of Q8® thermal liner material pad the knee for additional comfort.
Extra-large boot cut pants cuffs curve up to avoid premature wear and walking on the cuff.
NFPA Style Triple Trim is double stitched to garment for increased protection against wear.
Grey leather cuffs are double stitched.
6-Point H-Back Suspenders.